Get Invisalign® from a St Charles Orthodontic Expert
Talk to an orthodontist to find out about the advantages of Invisalign® clear aligners over traditional braces for straight teeth and a great smile. Orthodonists are experts in straightening teeth and can help you make the right decision, Invisalign is a fast-working alternative to cosmetic dentistry.
Straight Teeth without Braces with Invisalign® Clear Aligners
Need a smile makeover? With Invisalign® removable clear plastic teeth aligners, you can get straight teeth without braces – and they are virtually invisible. Dr. Brown's advanced orthodontic treatment can give you a beautiful smile in as little as 6 months.
Invisalign clear braces can fix crooked teeth or crowding by using a progressive set of clear plastic aligners to straighten your teeth in as little as 6 months, followed up by orthodontic retainers to maintain your attractive new smile.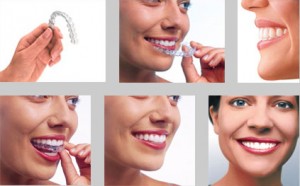 While the end results may appear the same—a confident, beautiful smile—when you stop and actually compare Invisalign® to other teeth-straightening options, Invisalign® can have advantages. Talking with an orthodontist about the pros and cons of each option ahead of time will help you make a more confident decision.
Invisalign® can treat crowding, spacing, crossbite, overbite, and underbite to straighten teeth.
Since Invisalign® allows you to remove the device when you want you can eat the foods you want and you can brush and floss your teeth normally for better periodontal health.
B+Co Orthodontics is your choice for Invisalign® in St. Charles, St. Peters, O'Fallon, Winghaven, Wentzville, Bridgeton and St. Louis. As a board certified orthodontist, Dr Brown can make sure you make a wise investment in your smile by selecting invisalign if it is the right option.